No matter the size of your business, if you've recently launched a new website or have ramped up some of your digital marketing campaigns in the last few months and want to know what impact they've been making, you'll need to enlist the help of some web analytics tools to get you the information you need. These tools are crucial in determining your current site's performance levels, as well as the overall satisfaction of your customers, and what they are looking to gain from your competitors.
It can be difficult to understand all the different numbers and data that your customers and visitors leave behind on your sites and blogs, but these tools help to make sense of it all in easy-to-use reporting packages; once you start to figure out how it all works, you can start making your website as effective as possible. We have some favorite tools that we use quite regularly, and thought we'd share our feedback with you.
1. Google Analytics
Who doesn't love free stuff?! Google "enterprise-class" Analytics is one of the best free tools out there, with tons of options to help you track and analyze your web traffic. You can generate detailed reports that will show you why users are coming to your site (unfortunately, we no longer can get access to keyword data since September and have to go elsewhere or get a bit more creative here), where they are coming from, what they're clicking on while on your site, and how often they come back to visit. It can also track campaign results, advertising results, and reports on your business' social media stats....to name a few. They have some great customization functionality, as long as you're willing to put some time in, but the results you get will be well worth what you spend setting it all up.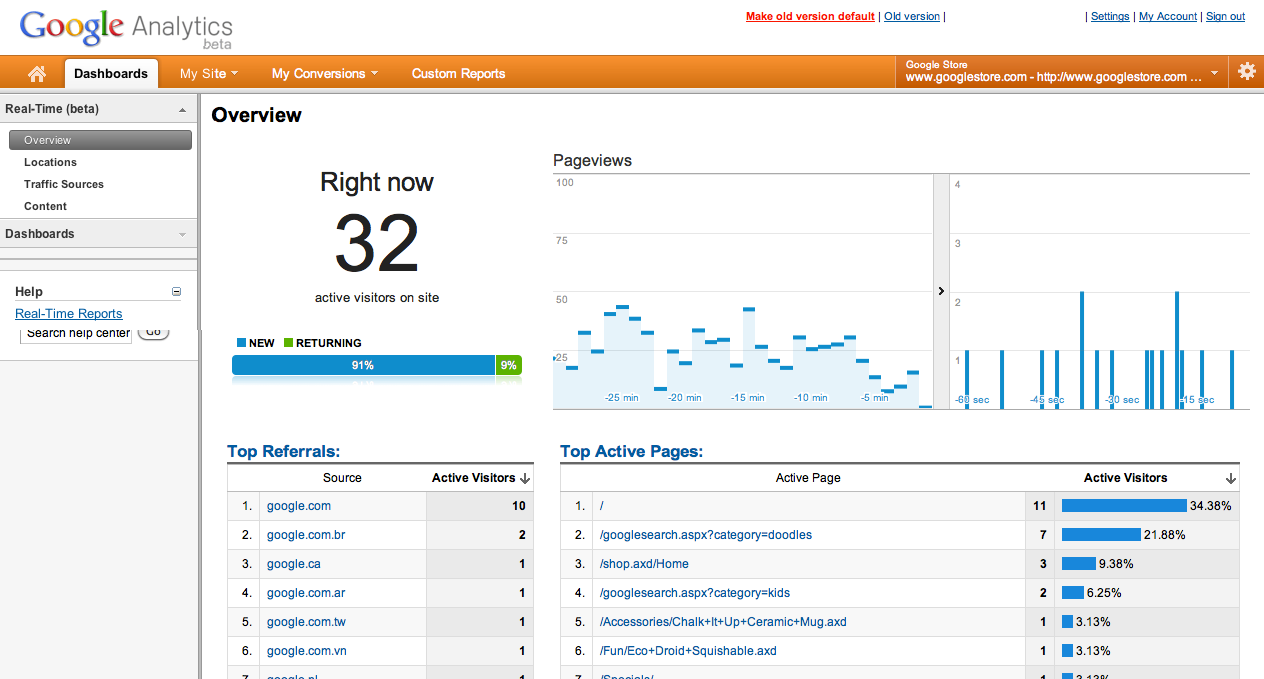 Clicky is another analytics tool that has a free option, if you only have one site; otherwise there is a monthly fee to upgrade to pro. Still, it's worth the cost as it provides real-time analytics, heat maps, iphone apps to keep you connected, from anywhere...and a really cool "spy" feature, where you can take a look at current users and see what they are doing on your site. Their dashboard is very user-friendly, and it's also super easy to set up and track campaigns and revenues. It also has a great social media integration where you have the ability to monitor mentions of your business on Twitter, right on your dashboard.

Another great freebie! Open Web Analytics is an open-source solution, offering very feature-rich software, with a really great interface that organizes all the data it reports on. It's also available as a WordPress plugin, so that you can track visitors, page types and comments by Wordpress usernames or email addresses. Here's a list of additional tracking and reporting features they offer:
Track Page views, visits, and unique visitors over time
Track unique, new, repeat visitors over time
Multiple Web Site Support - track any number of web sites and view statistics in aggregate or by site
Click-streams - view the actual click-stream of each visitor
Click Tracking - Track where exactly on a web page users are clicking and view clicks by browser type
Click Heat Maps - view a heat map of where users are clicking on your web pages
Google Maps - map your visitors on Google Maps
Google Earth (KML) - view your visitors in Google Earth via a KML file export
RSS/ATOM subscription tracking - track unique feed readers, reader types, and feed requests
Visitor Aging - understand the age of your repeat visitors.
Canned and Custom Time Periods - generate reports using pre-defined reporting periods or custom date ranges
Refering Page Analysis - View the title, anchor text, and surrounding text of inbound links from refering web pages
View visits by user agent
Track entry and exit pages
Track pages by custom page types
4. Crazy Egg
And last but not least - Crazy Egg. Now, this one is not entirely free - they offer free 30-day trials, and after that they start charging depending on your total site visits per month. But they have a quote on their homepage that pretty much says it all:
"I have used many analytics tools in my career, but Crazy Egg is pushing the envelope. If you want to understand consumer behavior on your web site in an effort to increase conversions and engagement, Crazy Egg is the tool to use."
They offer all sorts of maps to track your visitors - heat maps, scroll maps (to see how far your users scroll on your page before becoming bored or distracted), confetti maps (where you can distinguish clicks on your site by keywords, locations, referral sources, etc.), and detailed overlay reports. The best part is that you can cancel at any time, so it doesn't hurt to at least get started on the free trial, and find out if it's a good option for you or not.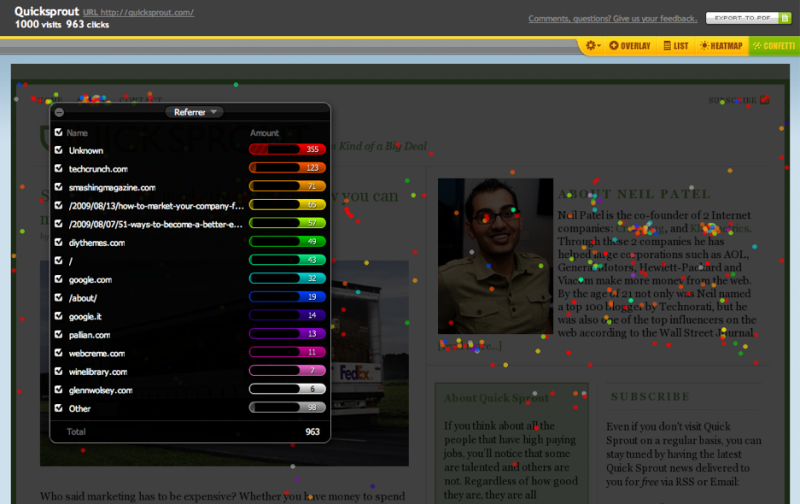 Our top choices listed above are what work best for us, and for our customers; but there are so many more options for useful web analytics tools, that it can be overwhelming. The good thing is that most offerings have free options, or even free trial or demo periods, so our advice is to try out a few and pick the one that works best for your business.
Do you have any suggestions for a web analytics tool other than the ones listed above? Which do you find is the most inclusive tool, and what is the most useful aspect of it? We'd love to hear your feedback!