As we get closer to the end of another year, you might already be thinking of or budgeting for your sales and marketing strategy for 2019. So we thought it would be a relevant time for us to highlight some key takeaways from Salesforce's "State of the Connected Customer" report, which was released a few months ago.
For this edition of the their annual report, Salesforce surveyed over 6,700 customers and business buyers all over the world to "better understand the modern mindset" and what today's buying landscape means for businesses. Here are four of the top insights they collected.
1. Customer Experience Matters Most
The other day I thought that it would be handy to have a tripod for my iPhone to take pictures. I went online, found a $25 tripod, ordered it with one-click of a button, and it was delivered to my door the following afternoon. It's because of technology and efficiencies like this that the modern customer has high standards for their own experience with your business, and they are easily frustrated when faced with challenges or issues during the purchasing process.
Customers today are energized by tech innovations — but also plagued by deepening distrust of the companies that provide them. They have high expectations about what makes a great customer experience, and not a lot of patience for companies that fail to deliver.
In fact, Salesforce's report found that eighty percent of customers say that the experience a company provides is as important as its products and services.

So how can you the customer experience your business delivers? Come up with a strategy that truly bears every customer interaction in mind: from the first ad they see, to the first email they receive, to their online buying experience, to their product delivery, to the follow-up you provide after -- there are many touchpoints along the way where you need to make sure you consistently have the customers' buyer persona and best interests in mind. Especially because seventy-six percent of customers also say that it's easier than ever to take their business elsewhere if they are dissatisfied.
2. Customers Expect a Connected Experience
Any business with separate sales, marketing, delivery and support teams know how tough it can be to integrate all teams to provide one, holistic, customer experience. But from the customer's perspective, they just want a consistent experience no matter who they are dealing with, and they want their needs and history to be known every step of the way. In fact, seventy percent of customers say that connected processes - such as seamless handoffs or contextualized engagement based on earlier interactions - are very important to winning their business.
Marketing personalization is another area that matters for both customers and business buyers alike: in fact, they are 2.1 more likely to view an offer as important if it's personalized.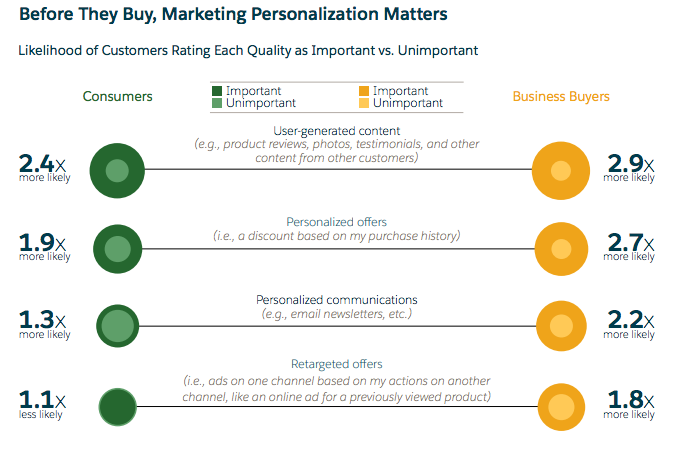 From a specific B2B perspective, business buyers have their professional reputations and corporate budgets at a stake, so the buying process requires even more diligence and a lower threshold for frustration. Thus, it makes sense that seventy-eight percent of business buyers seek salespeople that act as trusted advisors with knowledge of their needs and industry.
Once the purchase is complete, customers and business buyers both stress the important of post-purchase customer service -- and not by waiting on hold with a call centre. They want real-time messaging, self-service tools (like support portals, FAQs, etc.), support forums and online communities, and empowered service and support reps, who will understand the customers' personal journey, and be equipped to make decisions to help them out.
3. Technology Requires Innovation
All of the emerging technologies changing our world means one thing for your business: it's going to have to change as well. Smartphones, Artificial intelligence, video marketing, the IoT, mobile apps, blockchain & cryptocurrencies, and voice-activated assistants (like Siri and Alexa) -- these are all fairly recent technology advances that could be important for your customer, and could push your business to innovate to accommodate.
Customers and business buyers believe that these technologies are going to dramatically impact their interactions and experiences with the companies they deal with, and in the very near future.
On average, 56% of consumers say a given

technology is transforming their expectations.

That figure rises to 63% for business buyers,

who are more likely to experience an impact

from virtual/augmented reality (54%),

cryptocurrencies (50%), and blockchain

(51%), in particular.
Just think: if you're able to purchase a product from Siri with a voice command and you find it a positive experience, you likely won't go back to the experience of an in-person store visit to make the same purchase.
4. The Importance of Privacy & Trust
With all of the major privacy and data issues coming to light over the last year, as well as the implementation of the GDPR, a customers' trust in a company is now more important than ever. In fact, sixty-two percent of customers say they are more afraid of their data being compromised now than they were two years ago.
But it's not just due to hackers and the thought of your personal information being leaked somewhere online; it's that customers don't like the fact that businesses are collecting their personal information, especially if they don't understand how it's being used.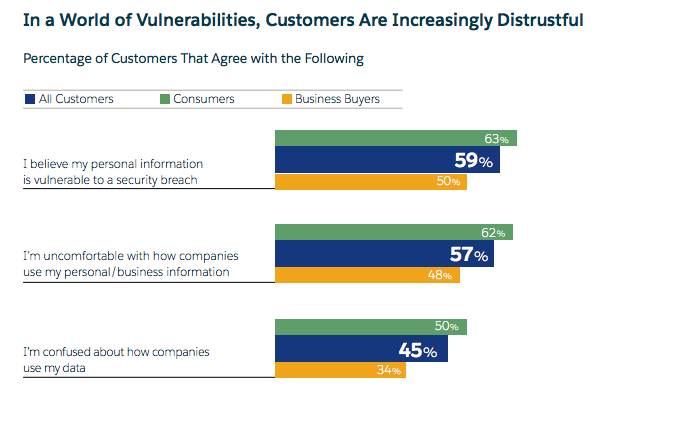 However, customers and business buyers are both are willing to exchange personal information in return for clear benefits: personalized offers, shopping experiences, and consistent cross-channel interactions. In other words, companies that stay true to using data to provide a better overall experience have a green light to create truly differentiated customer journeys.
---
Download Salesforce's full State of the Connected Customer report for all of the details, as well as some other very eye-opening stats regarding the evolution of the customer and their expectations, and how this may impact your business as we move into 2019.