Instagram has recently announced the launch of IGTV, "a new app for watching long-form, vertical video from your favourite Instagram creators". You can access IGTV through the new IGTV app directly on your phone, tablet or laptop, or from within your existing Instagram app.
With mobile viewing estimated to overtake TV viewing by next year, and with its community of 1 billion users, IGTV has been launched just in time to compete with YouTube for long-form video content.
"Video is the way we hang out with friends, the way we pass the time, but the way we watch it is changing," said Kevin Systrom, Instagram's chief executive. "Teens might be watching less TV, but they're watching more creators online."
IGTV videos can be up to an hour in length, and can be shot directly on your phone and then edited using any of a number of apps available (we prefer Apple iMovie or GoPro Quik to edit, cut, add titles, links, music, etc.). The final product can then be uploaded directly from your phone to the IGTV app or through the IGTV access within the Instagram app.

As a business, how can you take advantage of the new IGTV?
With the ease of creating and uploading video content, businesses and brands can begin using IGTV in a number of very effective ways.
1. User Support / Training / Tutorial Videos
For a business that sells products that require support or training, IGTV will be a great resource. For example, earlier today I could not figure out how to adjust the temperature on our (old) wall thermostat. I googled the brand of the thermostat, hoping to find a video tutorial that would walk me through the process...with no luck. So instead, I slowly melted inside my 30°C office.
Businesses can avoid poor-PR situations like this by recording and uploading support or tutorial "how-to" videos for customers using their products.
2. Product Demos
Sales teams can be further enabled with pre-recorded product demos, which would be especially useful for SaaS-based solutions. You could produce IGTV video demos for all ranges of your products, with a CTA link directly back to your website, or to a contact form or downloadable whitepaper. These IGTV demos can easily become part of your overall inbound sales and marketing strategy.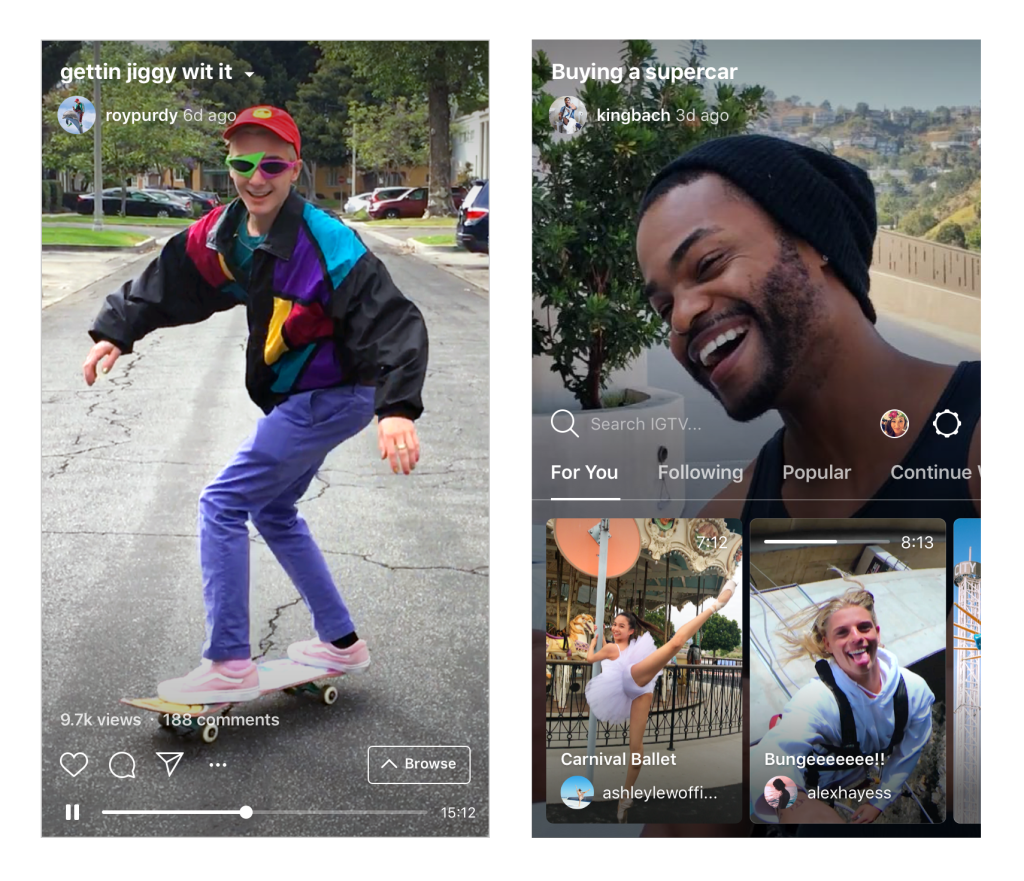 3. Testimonials or Reviews
Storytelling is one of the most effective ways to market your products or services. Record and display customer case studies through IGTV, again including a CTA link in the video back to your website or a contact form.
4. Behind-the-Scenes
Audiences love knowing the details "behind-the-scenes". Draft up a content calendar for an IGTV series; here are a few ideas:
"Getting to Know You" video series (introducing/interviewing team members)

"Who We Are" (a story of the company or team behind the brand)

Office tour

Videos of company social or industry events

Videos of company speaking events

If you sell products, videos of "how this is made", or behind-the-scenes on a production line
5. Advertising
IGTV will not initially display ads (like YouTube), but that is something that may change as the app evolves. In the meantime, businesses can still use IGTV as another marketing platform for their brand, products and services with some of the ideas noted above.
---
As we become more familiar with the features and benefits of using IGTV for social media marketing, we'll come back to this post and expand on these ideas. For now, we hope these are a few useful insights for how you can get started on the new platform, and use it effectively to market your business and brand with relevant video content.