Having a certification is proof of your knowledge and expertise in a certain area. A certification may help you to close that new client, move a step further in your career, or help you advance in your personal and professional development.
Google offers a number of certifications and other courses that can be earned across their business tools, and we'll break them out for you below.
The Google Ads certification is a professional accreditation that Google offers through the Academy for Ads, which recognizes holders as experts in online advertising.
To become certified in a Google Ads product area, you'll need to pass the Google Ads Fundamental assessment, plus one of the additional product assessments that are available, and detailed below: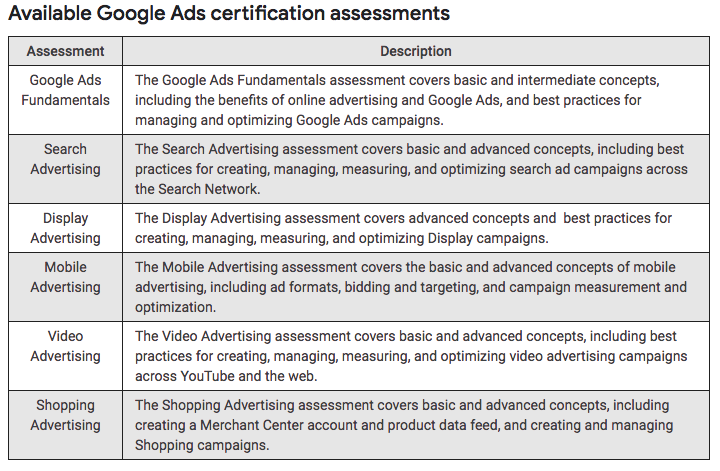 A Google Ad certification remains valid for one year. After the one year certification expires, you'll need to re-take both the original Fundamentals assessment, as well as the additional product assessment as well in order to stay certified.
Google Analytics Academy offers free online courses for users to further their analytics knowledge and education.
Analytics Academy is broken down into four courses:
Google Analytics for Beginners: which teaches the basic features of Google Analytics, including setting up an account and goals and campaign tracking
Advanced Google Analytics: which teaches some more advanced features, such as data collection and processing, and some of the more complex analysis and tools
Getting Started With Google Analytics 360: this courses goes over all features available in the Google Analytics 360 product
Ecommerce Analytics: Learn how to use Enhanced Ecommerce reports in Google Analytics to help you make more informed ecommerce decisions
Google's Digital Garage is a one-stop shop for mastering all there is to know about digital marketing. There are 26 certification topics, each unlocking it's own badge. Once all 26 badges are unlocked, you'll earn the Digital Garage Certificate of Online Proficiency.
Of course, you don't have to complete all 26 courses to earn the certification; you can pick and choose the topics relevant to you and learn at your own pace. You can even book a free face-to-face course or coaching session, at any Digital Garage workshop near you.
The Google Digital Academy is a warehouse of the best of Google education topics on everything digital.
We're here to help our agency and client partners build the skills and capabilities they need to stay ahead in the rapidly changing digital world and transform the way their people & businesses operate.
Offering a number of tutorials, ranging from two-day workshops to 5 month, part-time courses, these online courses will help you progression in the world of digital and digital marketing.
The Google Partner badge is eligible for advertising agencies, and shows that agency as a partner who has passed the applicable Google Ads product certification exam.
Google Partners can specialize in one or more Google Ads product areas, such as Search Advertising, Mobile Advertising, Video Advertising, Display Advertising and Shopping Advertising. The Partners' badge can be added to your website, business cards and other marketing materials to show your expertise as a Google Partner.
So what's the difference between the Google Partner badge and the Google Ads Certification mentioned above? Individuals get certified, while Agencies earn badges and specializations. Specializations will only be given to agencies who have earned a Partner badge, have at least one certified employee in the Google Ads product area, specialize in one of the Google Ads product areas mentioned above, and have a minimum of $10,000 90-day Google Ads spend in their certified product area.
The Google Marketing Platform badge is available for companies who have mastered a Google Marketing Platform product and fulfill the Product Expertise Requirements detailed below:
You must have at least five local, full-time experts working with Google Marketing Platform products and have passed the associated certification exams. Google will consider team size, expertise, and certification rate and may make exceptions for small companies who have difficulty meeting this requirement.
Google looks for clear documentation on your planning process, including your frameworks and templates used to design and deliver complex solutions.
You will be asked to provide a comprehensive review of two paid and expertly delivered project samples for each product. These project samples should represent advanced work that:

Shows strategic planning and optimization toward your client's business goals
Displays your ability to go beyond basic or standard implementations and use
Demonstrable impact on your client's goal through statistics and/or client testimonials.
Product certifications can be completed in any of the following areas: Analytics, Data Studio, Optimize, Surveys and Tag Manager.
---
Google offers many (free!) opportunities for users to become certified and trained experts on their platforms and products. If you are pursuing a career in digital marketing or looking to further your personal or agency education, these online certifications and courses are the place to become an expert in your field.