Optimizing your YouTube videos is as important as search engine optimization for your website. Over 300 hours of video content are uploaded to YouTube every minute, so you need to make sure your own content is found easily, and by the right audience, every time.
Optimizing your YouTube videos will not only improve your search ranking results within YouTube itself, but also across search engines like Google as well. The following tips will help you and your content production team rank against the vast competition, improve those video impressions and increase your brand awareness.
Let's start with the basics.
Video Title
This is probably one of the first things you do upon uploading a new video to YouTube, and it's an important first task. A video title is the first thing a user sees when they find your video within YouTube, on a search engine, or shared on a social media page. Your title should be a few words long and contain the best keyword that you're trying to rank for. It should also be an eye-catching sentence, that will entice a user to click on it.
You only have about 70 characters, including spaces, so play around with some options to find one that will fit best in the limited space you have.
Video Description
YouTube allows 500 characters for a video description, but we recommend keeping it short and sweet (around 300-350 characters). Your description should describe the content of the video, and include a relevant link back to your website, product page or a page that is specific to what the video content relates to.
Timestamps are also an option and allow users to view a specific section of your video based on timestamp links. All you need to do is type the video times into the body of your description, and upon saving, they will automatically hyperlink to the appropriate time in the video.
Your description should include just enough information to tell the user that the content they are about to watch is what they were looking for, and also entice them to want to learn more.
Video Tags
Video tags help to classify and categorize content, but you should only be using keyword tags that are relevant to the content in your video. Tags will help your users and search engines better understand the topics covered in your video content and will thus help your ranking.
Video Thumbnail
A Thumbnail is a single image that can represent the content of your video. As YouTube states, they act as "miniature marketing posters for your videos" and can attract additional viewers if the image is compelling enough to click.
After your video is finished uploading, you can choose a thumbnail from the three options YouTube automatically generates — just select the thumbnail you want to use and click Save changes. You can upload your own custom thumbnail once your YouTube account is verified.
Here are some visual guidelines to picking the best "marketing poster" for your video:
Use visual cues (colors, images, shapes, personalities) that are consistent with your brand
Clear, in-focus, high-resolution of 1280x720 (with minimum width of 640 pixels)
Be uploaded in image formats such as .JPG, .GIF, .BMP, or .PNG
Remain under the 2MB limit
Try to use a 16:9 aspect ratio as it's the most used in YouTube players and previews
Looks great at both small and large sizes
Accurately represents the content
You should try to make sure that your video thumbnail and your title tell a story; together, they are the first view of your video and the content that it contains, so they should cohesively entice viewers to click and watch. Go ahead and test them on yourself: if you saw your title/thumbnail combo, would you be interested enough to watch it?
---
Now that we've gone over the basics, let's take a look at some of the more advanced optimization options you can play around with.
Comments Permissions
Although the comments section can sometimes get a little 'wild' for certain types of content, disabling comments will actually negatively effect the visibility of your video. YouTube actually relies upon comments to determine the quality of video content, so you should always make sure the "Allow all comments" option is checked off.
In case that still makes you nervous, rest assured that YouTube does have a process in place which will allow you to moderate and review comments that may be inappropriate.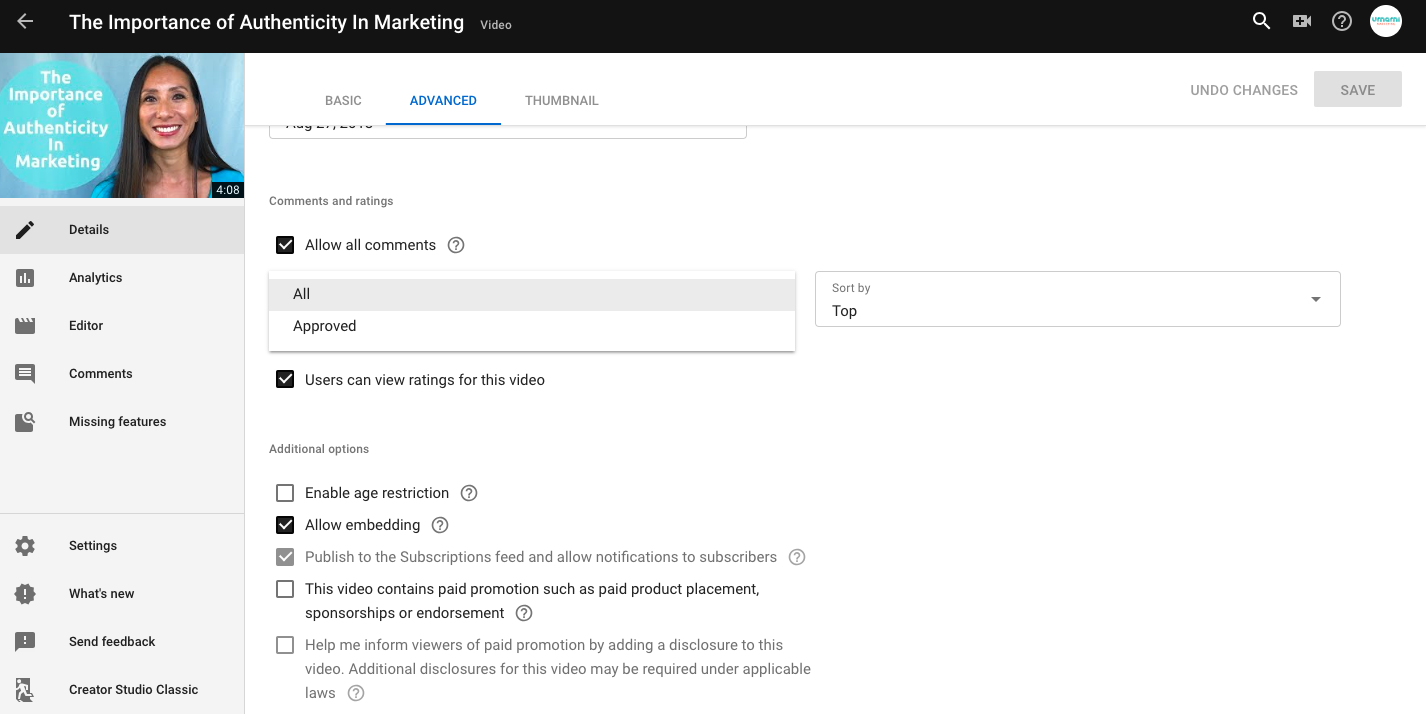 Age Restrictions
You also have the ability to implement age restrictions for your videos, which will prevent underage users from viewing your content. However, please note that selecting this option will remove the the ability to monetize and promote your video through different ad formats.
Distribution Options
Another option to default select should be "allow embedding". This will allow other users to embed your video content directly on their site, which will help with the sharing of your content on other websites and to a potentially new audience base.
Additionally, if you have subscribers, publishing a new video will automatically notify those subscribers of the new content so they can login and view it.
Video Categories
There are 15 different video category options for you to allocate your video content. Categorizing your content accurately will help YouTube recommend appropriate content to relevant users.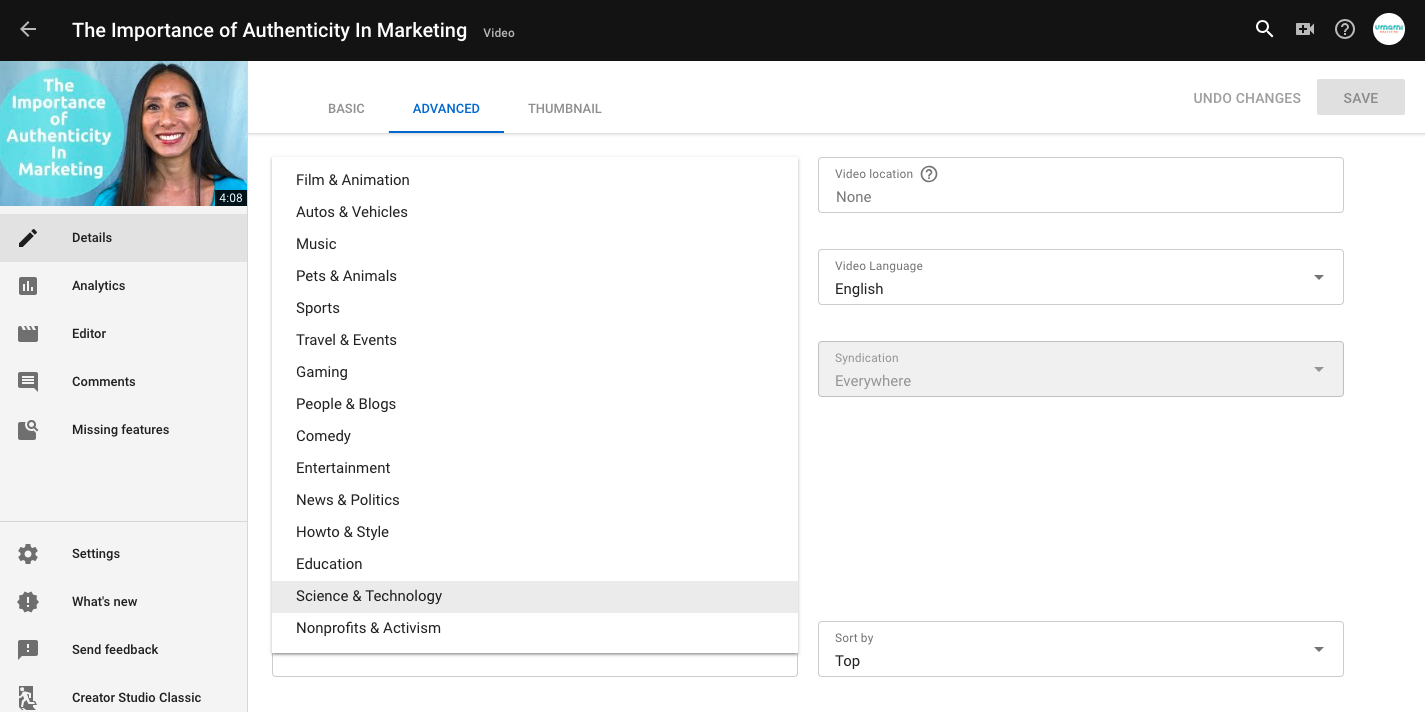 Translations & Transcriptions
Transcribing and translating your videos allows them to be accessed in multiple formats, which is useful for the hearing impaired or foreign-language viewers watching your content from across the world. You can further optimize your videos by using YouTube's tools specifically for these purposes:
Transcripts: Once your transcript is added to your video, YouTube uses speech recognition technology to automatically sync your captions to the speech in the video (as long as the transcript and the video are both in the same language). YouTube offers step-by-step instructions on transcripts here, which you access through the "Subtitles/CC section" in your channel Video Manager.
You can either upload a transcript file, easily transcribe and auto-sync (if you have the video's content already transcribed) or manually add in subtitles by typing them along as the video plays.
Translations: YouTube also offers a tool that will provide professionally translated subtitles, for a fee, or you can do the translations yourself.
These tools are particularly useful for businesses looking to launch into a new territory or expand their audience base.
Cards
You can use cards to add interactivity to your videos. Cards can point viewers to a specific URL (from a list of eligible sites) and show customized images, titles, and calls to action, depending on the card type.
You can add up to 5 cards to one video. A description of each type is detailed below:
Channel Cards:

Link to a channel that you'd like to call out to your viewers. For example, you can use this type of card to thank the channel for their contribution to your video or for a general recommendation.

Donation Cards:

Creators in the United States who want to fundraise for a U.S. nonprofit organization can raise funds by putting YouTube donation cards on their videos.

Link Card: Associated website: Link directly to your associated website from your video. You need to

add an associated website

to your account to use this card.

Link Card: Crowdfunding: Link viewers directly to your creative projects on one of these approved crowdfunding URLs

.

Link Card: Merchandise: Promote licensed merchandise directly from your video. Make sure your URL is on the list of approved retailer URLs

.

Poll Cards: Engage with your viewers by presenting them with a poll and let them vote on different options.

Video or Playlist Cards:

Link to another public YouTube video or playlist that viewers might be interested in. You can also link to a specific time in a video or to an individual video in a playlist by entering a video or playlist URL directly.
End Screens
You can build viewership with end screens on your videos, which are basically a call to action for the user to take a suggested next step. End screens are a part of the video that show during the last 5-20 seconds of a video. Your video has to be at least 25 seconds long to have an end screen, and you can add up to four elements to promote your content, channel, and websites.
Some examples of how you can use end screens at the end of your YouTube video are:
Point viewers to other videos, playlists, or channels on YouTube
Call for subscriptions to your channel
Promote your website, merchandise, or crowdfunding campaigns
Audio Options
YouTube has commissioned thousands of royalty-free, copyright-free songs for use in videos. You can choose to add or replace audio in your video using these songs by selecting the "audio" tool in your channel Video Manager.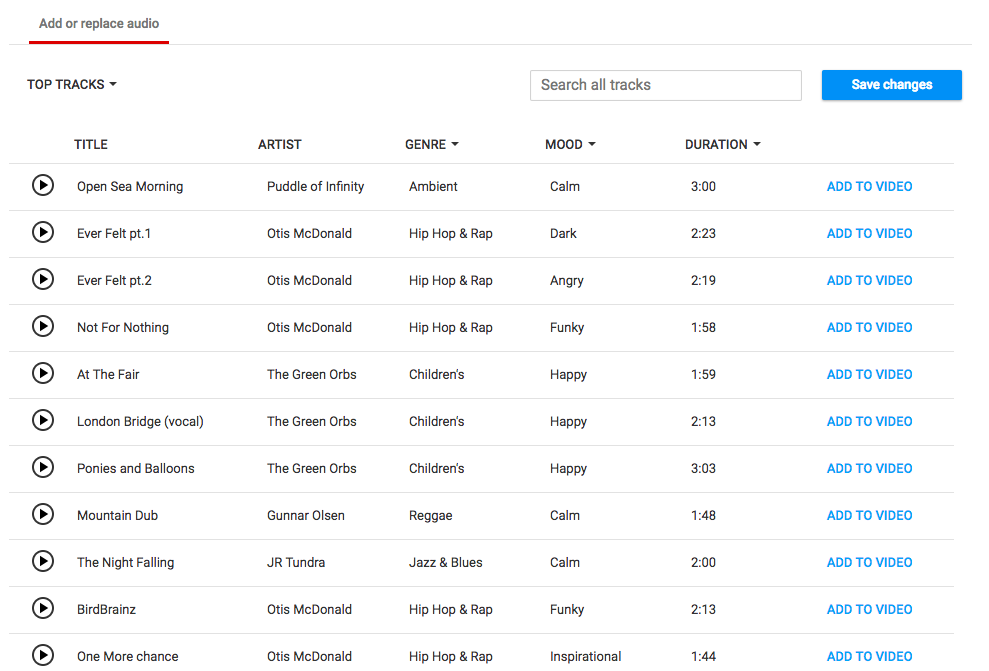 Summary
I know this was a lot of information to absorb, so here's a high level summary of the most important aspects of optimizing your video content on YouTube:
Make sure your metadata (title, description, tags) include relevant, strong keywords and a link to your website or relevant website content
Make sure your video is optimized to entice users to watch the content, and that your content is relevant to the users' original search query
Use end screens or annotations to promote a clear call to action for your viewer to take the next step (to subscribe to your channel, point viewers to another video, or promote your website or merchandise)
And as always, the best way to learn what works for your content production and your audience is to try it out. If something doesn't seem to work for one video, try a different option in the next and analyze if it increased your viewership or audience engagement.