Are you making the most out of your Google Analytics dashboards as part of your overall digital marketing strategy? These dashboard widgets create visualized summaries of different reports and they are displayed on a single page, giving you real-time, high-level access to your metrics and their performance.
Every Google Analytics account comes with a default "My Dashboard" that has a few standard widgets already included. You can add or remove any widgets to this default dashboard, and you can create up to 20 dashboards to display your data in different formats (up to a maximum of 12 widgets per dashboard).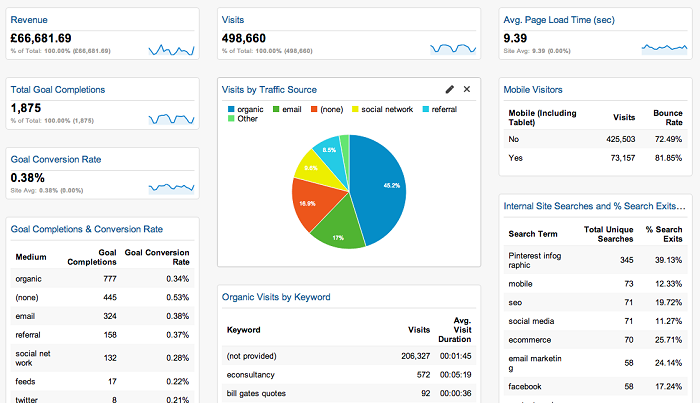 These dashboards are a great way to keep track of your website stats and can be very useful as long as you have the right data being reported in your visual summary. For example, you can easily see how long it's taking a page to load (potentially signalling an issue), or see where your top traffic is coming from.
To make sure you're getting the most out of your Google Analytics dashboards, pay attention to these helpful tips.
1. Take Advantage of Shared Dashboards
Google has an awesome feature where you can import any shared dashboard templates into your own account for free! All you have to do is find a shared dashboard that you like, click on the link while logged into your Analytics account, and choose the profile you want to add the dashboard to. This is a really great tool that can save you time setting up your own dashboards, and boost your reporting capabilities using others' creativity. Crowd Source your analytics insights with Google Analytics Solutions Gallery, which contains in-product solutions (such as dashboards, custom reports and segments) to deepen your use of Google Analytics and accelerate your learning curve. Whether you're a newbie or guru, they will help you learn more about your data through the power of Google Analytics. Check out their featured solutions or browse the collection to find what may be useful to you.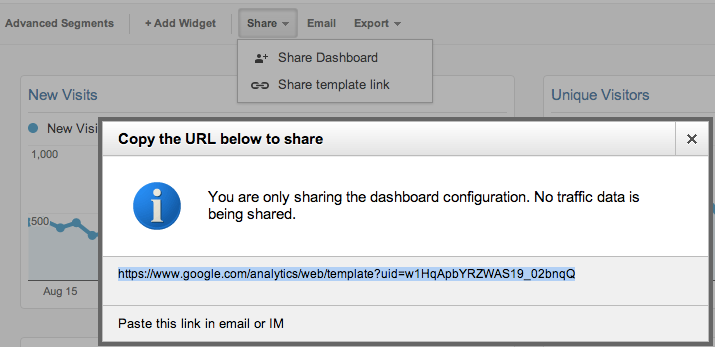 2. Separate your Dashboards
It's a good idea to separate your dashboards based on the information you want to pull out of them. For example, if you want a real-time view of your Social Media Analytics, create a dashboard tailored just for this data; or, if you want to test the stats on your new mobile-friendly website, set up a new dashboard that tracks all of your Mobile Analytics. This separation of your data allows you to pull up one of these custom dashboards and know exactly what you are looking at, and what section of your website the data is reporting on. It's quick, it's easy, and readily accessible for all team members to access and understand.
3. Using Widgets
There are a number of widgets available to add to your dashboards; the trick is knowing which ones to use to get the insights you want and need.
Metric widgets: these widgets present a single piece of data on your dashboard along with a small sparkline. This is ideal if you need to check one specific piece of data each day, like the amount of revenue generated from an online store for a certain time of day.
Timeline widgets: these widgets provide a detailed chart showing trends by day. This widget allows you to show a single metric or compare two metrics, such as the daily number of website visits and corresponding revenue generated in the same period.
Geomap widgets: these widgets allow you to display a map within your dashboard, which can be very handy if your business is worldwide. You can go as detailed as showing the location of your visitors, or even compare conversion rates or engagement by specific geographic location.
Table widgets: these widgets are great for monitoring PPC campaigns, landing pages or specific content. They display a table that combines information with up to two metrics per dimension, so you can compare, for example, conversion rates between two products.
Pie widgets: these widgets are pretty self-explanatory. The data is presented in a pie or doughnut chart and can be useful for visual comparisons.
Bar widgets: these widgets present data in a bar chart, and are very useful for visualizing comparative data. You can edit the widget to present the data horizontally or vertically, and allows for additional customization to get the most out of the chart for your reporting.
Any one of these widgets can also have filters applied to them, allowing you to further manipulate and define what is presented in the dashboard views.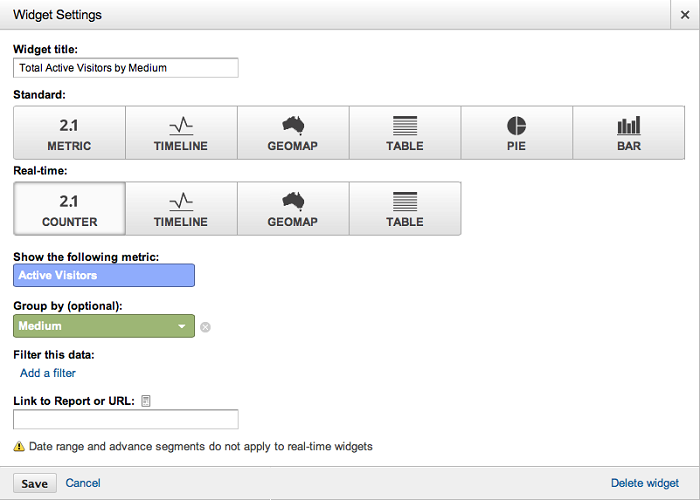 4. Exporting & Emailing
There could be many people in your organization who don't have access to your Google Analytics account, but still need access to the information your dashboards provide. This problem is solved by Google's ability to export any Analytics' dashboard to PDF, excel, CSV, or into a Google Doc, or automatically send out emails with the dashboard attached. You can set up these emails as recurring, so that they are auto-generated and emailed on a regular basis to a certain person or list of people. This is useful for weekly/monthly or quarterly KPI reporting that you may be responsible for, and it takes one more thing off of your to-do list :)
---
If you have set up your Google Analytics account but haven't taken advantage of the dashboard functionality, these tips should help you out. Dashboards are a great way for you to save time on your day to day reporting, and provide real-time information on your website, so you can stay on top of any changing trends and adapt your marketing strategy accordingly.