Although we can gather some average conversion rates to help understand targets and what goals to shoot for, every business model is different and this must be kept in mind when looking at the industry data. This will vary highly based on the market and the types of customers you're targeting.
For the B2B software industry, it's been said that 7% is a strong conversion rate, and it's been suggested that marketers shoot for somewhere in the 5-10% range. With all that complexity in mind, here are some key considerations when determining what conversion goals to target for your SaaS business.
Define Your Conversions
As every business is different, you'll need to start off by really understanding what conversion you want to measure in the first place, and what action defines a conversion in a particular campaign. A conversion could be anything from a new newsletter subscriber, to someone who downloads a white paper, to someone that signs up for a webinar or books a demo of your software. There will be different conversions along different parts of your funnel in the Buyer's Journey as well.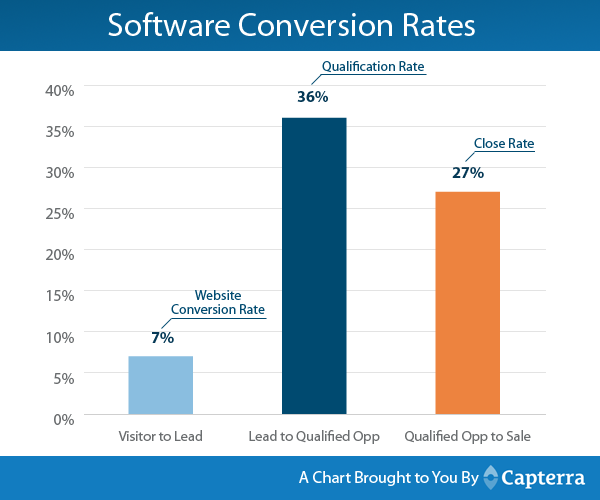 From here, you can then calculate an actual conversion. For example, If your conversion is defined as any lead who becomes a new customer, then the formula should look like this:
Lead Conversion Rate = Total No. of New Customers / Number of Leads X 100
Eyeball
Average Conversion Rates by Industry
As per Capterra, in the software space, the average lead generation conversion rates are from 5-10%.
Marketing Sherpa also has a chart that shows average conversion rates across various industries - but keep in mind that the definition of a conversion in each industry and within each company itself will differ - and thus there will be a lot of variance that led to this data.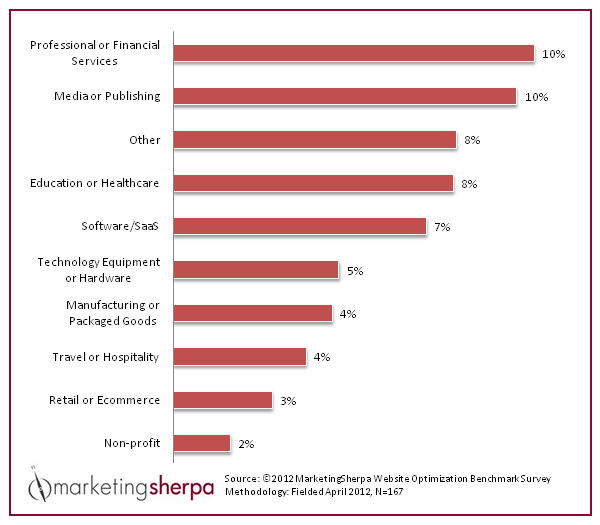 Always Improve Your Conversions
Because these averages are really only averages, you must take them with a grain of salt and focus more on improving the conversion rates that are important to you.
Keep track of each conversion in your funnel, and then work on optimizing them throughout.

Depending on resources, focus on those that are most important first.

You can improve your messaging, forms, Calls to Action, landing pages, and content offers themselves.

Provide stronger Social Proof with testimonials and case studies.

Explain in more detail what to expect as a customer - in terms of the product itself, or your onboarding process.

Test, refine, launch and continually make improvements, and only use benchmark data as one general input of how you measure up.
Look at Other Key Metrics
While it's important to target conversion rates for your SaaS, you must also keep in mind other key metrics.
What are the number of customers you're actually getting from all of these conversions? What is your Cost Per Customer Acquisition (CAC)? How many Marketing Qualified Leads are you getting (MQLs) and how are those translating into Sales Qualified Leads (SQLs), followed by actual sales.
It's important not to lose track of all the other metrics that you will want to focus on and improve through your entire Marketing and Sales funnel.
--
Now that you know more about reasonable SaaS Conversion Rates, please check out our recent blog posts covering more useful Inbound Marketing tips.
If you liked this video, subscribe to the Umami Marketing YouTube Channel and the monthly Digital Marketing Postcard. I'll be back again next month to answer more of your questions. See you soon!