Hi, I'm Victoria Chemko, and as the Founder of Umami Marketing and more recently, Umami Travels, I've been Location Independent for about 8 years now. This month, I'll be sharing a little about my personal story, and then I'll delve into how you, too, can successfully balance a remote worklife.
Keep on watching to find out all the details in this edition of the Digital Marketing Postcard.
Those who meet me are usually surprised when they first find out where I originally grew up. I was born and spent my childhood and teenage years in the small, isolated town of Terrace in Northern British Columbia, Canada. From there, I wanted to escape and see the world down in the "big city" of Victoria, BC, where I moved for University, then I headed on over to Vancouver once I graduated. I worked in politics for about a year, then in a corporate job at a startup ecommerce software company for almost 7 years, as it grew from 6 to about 160 people.
At that point, I became antsy, and wanted to start my own business for a lot more freedom and flexibility to travel and be where I wanted, when I wanted, and have the chance to call my own shots. I'd attended multiple destination weddings over a year after leaving my 9-5, and worked on sorting out what I would do next in life, as I planned to design a lifestyle that incorporated more of the values that were most important to me. After taking on a couple of small digital marketing contracts for friends who ran their own companies, I had a lot of major life changes happen at once which culminated in my decision that this was the way I wanted to move forward - I would continue to do digital marketing for companies, but on a larger scale.
I did this at a time when there wasn't a lot of what I would call "infrastructure" available for digital nomads who were traveling away from their homes, and thus had to find a way to make everything work, to keep in line with my key priorities of freedom and flexibility.
Thus, Umami Marketing was born, and from very early on has been made up of a team of specialist contractors both locally in Vancouver and around the world. Throughout this time, as I went from being a sole proprietor of the business to taking on a team after the first year, there have been many challenges to overcome along the way.
For those of you who are also interested in working remotely or becoming more location-independent, here are some key considerations to help you get started on your own path to freedom.
But First...Internet
Although this may seem obvious, accessibility is definitely something that you have to keep in mind while planning out your travels as you're constantly on the move. Back in 2011, wifi wasn't as ubiquitous as it now is in many countries, and it could be difficult to find places with a reliable connection, especially in Southeast Asia or Europe, where I spent the majority of my time to start.
Thanks to travel review sites and other travel bloggers sharing their experiences, I can usually find reliable information as to the state of internet access in the cities and towns I want to visit, in advance of me booking my trip. Beyond that, one of the most important things I make sure to ask when booking accommodations, is how reliable is the internet, when it really comes down to it. Research is key here, as finding yourself in a location with unreliable access in this industry is detrimental to your work.
With tethering, data sim cards, and mobile internet sticks, there are options in the case of limited or patchy wifi, but these can be costly and are not a good long-term substitute in many cases. They are, however, great and mandatory backup solutions. Otherwise, I've found if you do get to a hotel or apartment and the internet isn't as reliable as expected, there are always coffee shops or restaurants who may offer better solutions. Luckily the term "wifi" is universally known across all languages, so no matter where you are, you can ask for help. :) Also, it's nice that this is becoming less and less of an issue as time passes.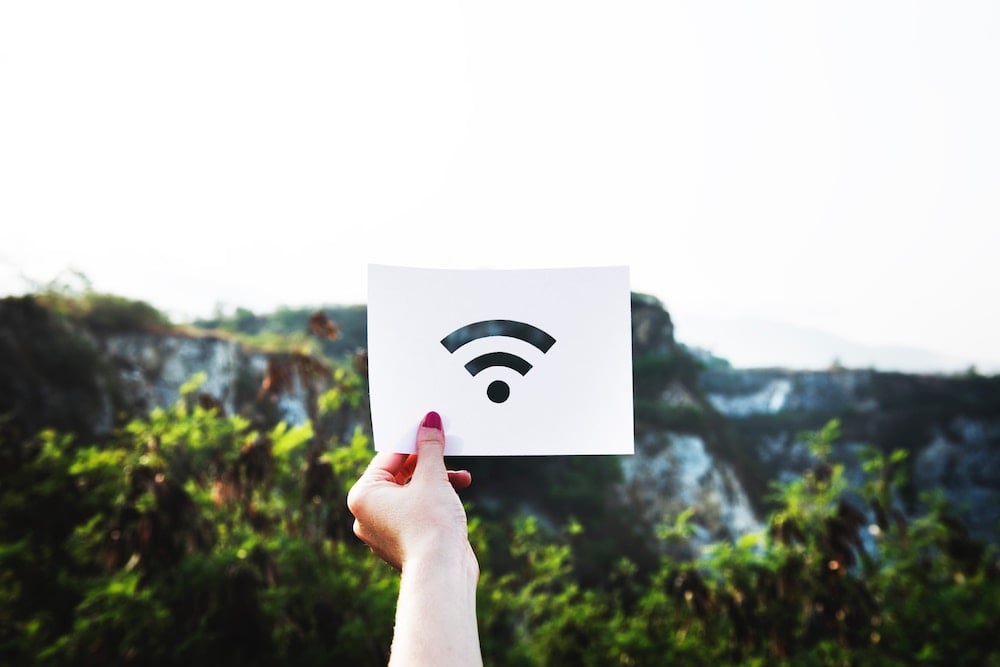 Communicate, Communicate, Communicate
Communicate well, and often. As it's more difficult to get your message across when you're not working in the same space as others (both your client and teams), you need to ensure that you're in constant communication with everyone.
Don't go dark, get everything done that you say that you will, and provide support and access to everyone that you deal with on a regular basis. There are so many online tools available nowadays that can support this; some of the few that we use are: Skype for video calls, Asana for project and issue management, Google Drive for web-based document management, and of course, regular old emails, text messages and phone calls, among others.
Another tip: be clear with your customers and team members about differences in time zones, especially if you're on the move often. Remember that they are likely still in the same place and time zone back home, so do your best to work around their schedules to accommodate calls or video conferences. Don't expect a customer to be available for a call at 7pm just because it works better for the new time zone you've just travelled to.
Be Willing to Change Course
When you're constantly in a state of uncertainty, since you aren't at a regular office or home base, there are challenges or unexpected events that could come up. Things won't always go smoothly. But then again, isn't this what life is like in general?
It's important to stay flexible and open, and be willing to adapt to address these changes. I've been in countries where the internet was so much slower and less reliable than expected, like Laos and Myanmar. I had hoped that it would be better, but I also knew going in that I may have to shorten my trips. So both times, I did just that. I had a one way ticket into Laos, and ended up leaving a week earlier than anticipated. For Myanmar, I had to buy a new outbound flight after only a weeklong visit instead of two, as I just wasn't able to do the work necessary there.
As a result, I didn't get to see nearly as much of the both countries as I had planned, but know that I will go back one day. My business priorities came first, and at the end of the day this company is what has sustained me and provided me with the lifestyle that I've always wanted.
Discipline is Key
I definitely believe that life is worth living now, and not only later…"after" such and such has happened, with less regrets of what you didn't do at the end of it. But in the meantime, there are some realities that you must face. It isn't all puppy dogs and roses - you must be disciplined and get your work done.
Being in a new place all the time, of course my inner explorer is constantly curious and wanting to learn about it and take in as much as I can whenever possible. Balance is key here, where you'll need to incorporate working hours when you're most productive during each day, as well as down time to visit and explore.
This is why when I do most of my travels, I don't jump around from place to place quickly, but prefer to stay at least a week to a month in a given location, to have enough time to really experience it, but also give myself time to stay on top of my work and deadlines.
Do What is Needed
Don't have an external monitor on the road but need to get that intricate analysis done from your hotel room or Airbnb? And there's no co-working space nearby?
I've done everything from sitting on a bed when there's no table or desk in a room, to using a planter to hold up my laptop with my external keyboard, to begging a random storefront to use their internet, to always having a backup data sim card for my phone to tether to my laptop.
At home I have a standing desk and a beautiful 4K screen, but sometimes you have to do what you have to, and forego comfort to get the work done. The beauty is that these are all a small price to pay for your bigger vision of a life that you lead -- on your own terms.
Summary
To focus on the power of storytelling in your marketing strategy, you need to remember:
But First...Internet

Communicate, Communicate, Communicate

Be Willing to Change Course

Discipline is Key

Do What is Needed
Now that you know more about how you can incorporate remote aspects into your worklife, please check out our recent blog posts covering other useful Inbound Marketing tips.
---
If you liked this video, subscribe to the Umami Marketing YouTube Channel and the monthly Digital Marketing Postcard. I'll be back again in November to answer more of your questions. See you soon!